Roof Repair And Restoration
For over 25 years, Surlang Roofing has been a trusted name in quality roof repairs for homes, businesses and multifamily/strata buildings. We are locally owned and operated with expertise in quality roof repair and restoration.
Our head office is in Surrey, BC, and our service area extends throughout the Lower Mainland of Metro Vancouver and the Fraser Valley.
We are proud to be a preferred vendor for On Side Restoration.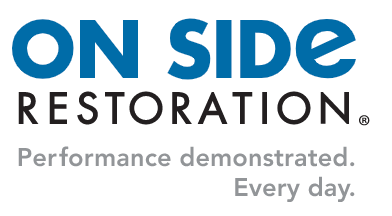 Damaged Roofs
A roof can be damaged in any number of ways including the following:
Weather damage from wind, rain and snow
The cumulative effect of the sun's UV rays over time
The impact of objects such as tree branches
Animals
General wear and tear
While a damaged roof can often be repaired, re-roofing or replacement is sometimes necessary. The older a roof is, the more susceptible it is to damage from the elements, and sometimes a new roof can be more cost-effective than repairing one that has reached its lifespan.
Roof Repair For Multifamily Homes and Strata Buildings