Some of the most invasive and expensive damage to a roof can be caused by animals getting onto your roof, ripping out holes, and then getting into the attic. Once in the attic, they will nest and often have babies. Imagine trying to coax a fierce mother raccoon and her family out of your attic space!

The best approach is to prevent this from happening in the first place and a practical place to start is to prevent access from the ground.
Are your trees close to the house? Do the branches spread out and over your roof?
This is like an open invitation to critters to come explore for a new home. Trees that touch your roof can not only provide easy access for big animals like destructive raccoons, but also provide an access path for insect infestations. Keeping trees and tree branches away from your roof is one of the best ways to protect it from nesting animals.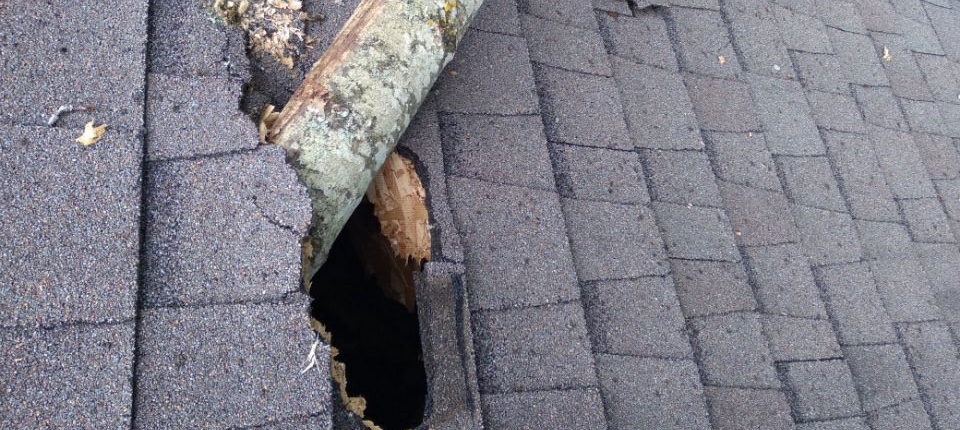 Trim your trees far enough back that a squirrel cannot leap from a branch to your roof. Squirrels can jump across a space of up to seven feet. You do not want any branches hanging over the roof either. You may even have to remove trees if they are too close.

Another thing to consider is to keep your gutters clear of debris and rotting foliage. This damp and moist kind of landscape is very inviting to insects, and may also attract birds to nest. If you have the unfortunate luck of attracting a migratory bird to nest on your roof, you will not be able to remove the nest as the are protected by Federal law.
You may have reason to suspect an animal has already gained access to your roof. The first clue is usually water stains on the ceiling or other signs of water leakage. Squirrels can be especially noisy, making scratching sounds- a sign they have gained access to your attic. If you're unsure, you can do a visual inspection of your roof.
Do you see any lifted shingles, or, in the case of racoons, obvious holes? Are their animal droppings anywhere on the roof? Do you see a bird's nest?
You can also check your attic space for signs of infestation such as torn up insulation, nests or holes, as well as animal droppings.
If you discover signs of animals, seek the advice of your local pest control company on how to get rid of them.
You do not want to repair your roof until you are sure they are gone for good.
Surlang Roofing has extensive experience dealing with roof damage from animals. This is mainly because it is so common! Our roofing team are professional roofers that do exceptional work consistently.
Protect your roof with the steps outlined above so that you can prevent costly damage. If it is too late to protect it and the damage is done, the team at Surlang Roofing can bring your roof back to its original watertight form, and will also advise you of any steps you need to take to prevent a recurrence.
We also do free estimates, so if you are trying to decide how to proceed, call us at 604-533-8322 and we will do an assessment and provide you with some options.